PAY 20 EUROS PER PICTURE SUBMITTED
Registrations for the competition are closed. Payments are still accepted.
You will not receive an automatic invitation to pay after uploading your photos. Please continue here to complete your payment.
Your participation in the Lens op de Mens 2021 preselections is final after we have received your payment of 20 euros per photo submitted.
Buy here 1 Photo Credit per photo submitted. You can specify the number of Credits in the window that appears after you have pressed Pay Now.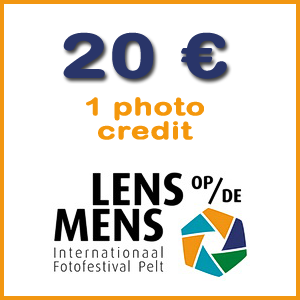 Photo Credits
Betaal €20 per ingezonden foto / Pay €20 per submitted picture / Payez €20 par photo soumise
OR PAY BY BANK TRANSFER
If you do not have a credit card, you can exceptionally transfer the total amount of 20 euros x number of photos submitted to bank account number
IBAN BE20 7360 7262 3156
BIC KREDBEBB
LODM vzw
Notenlaan 10
3900 Pelt
Notification: First Name, Last Name, number of pictures submitted
Please let us know by sending an email to info@fotofestivalpelt.be
GENERAL RULES
A registration will only become definitive after the registration of the participant, upload of the photos and payment of 20 euros per photo submitted.

After paying 20 euros per photo submitted, the participant can still add extra photos or remove photos and replace them with other photos.

If the final number of photos submitted is higher than the number originally paid for, an additional payment of 20 euros per additional photo is required to ensure valid participation.

If the final number of photos submitted is lower than the number originally paid for, the participant CANNOT reclaim the overpaid amount.

By submitting the photos and completing the registration form the photographer gives permission for the submitted photos to be used at the international photo festival 'Lens op de Mens'.

Participants agree to all rules when submitting photos.

The jury's decisions are final and uncontested. There's no correspondence about the course and outcome of the judging.

Lens op de Mens – Photo Festival Pelt vzw reserves the right to postpone or cancel the competition, or not to choose a photo if the circumstances so require.

Participants will be informed by email whether or not their photos have been selected by the jury for the exhibition.
Thank you for your payment
We wish you a warm welcome to Lens op de Mens 2021 in Pelt