The programme for edition 2023 will be further updated in the coming days
General information
CC Palethe is an ideal base for visiting all the exhibitions of Lens op de Mens. It is very centrally located on the route and there is plenty of parking space.
Route plans and info magazines are available on the information displays at CC Palethe, the church, Pelle Melle and at the local catering establishments.
Groups can request a tour with an expert guide at info@fotofestivalpelt.be
Along the route, there is a wide range of catering establishments where you can take a break over a refreshing drink and a tasty snack.
SUMMARY OF EXHIBITIONS AND OPENING HOURS
Outdoor exhibition of all selected photos from Lens op de Mens
The nearly 3 km route runs along the streets and squares of Overpelt Centre, making it permanently accessible.
Click on a location name for more info about the exhibitors
Martin Parr (UK) | A summer with Martin Parr
WPC – World Photographic Cup 2023 | Team Belgium
Jeugdlaan 2, 3910 Pelt
GPS 51.211239° NL 5.428118° EL
Every working day 9am – 4.30pm and during activities at the cultural centre
Except on Friday open 9pm – 12pm
Every Saturday and Sunday 2pm – 5pm

Carine Van Gerven | Tableaux vivants
Kerkdijk 2-4, 3910 Pelt
GPS 51.211111° NL 5.425730° EL
Every day 10am – 5pm, except during church services
Members of the jury 2023 and members of the LodM board
Oude Markt   GPS 51.211750° NB 5.423692° OL
Lod Lavkistreet   GPS OL 51.212350° NB 5.425730° OL
This open-air exhibition is permanently accessible
Leon Alders | Kongolo
Photo Club Zonhoven-centre | Project 'Fly on the wall'
Dorpsstraat 58, 3900 Pelt
GPS 51.213668° NL 5.423033° EL
Every day 9am – 5pm
Frank Doorhof | Selection of work with humorous undertones
Dorpsstraat 91 on the fencing of the Vakschool site (former TIO)
GPS 51.210247° NL 5.421686° EL
This open-air exhibition is permanently accessible
They fight for us too | Contemporary Ukrainian war photography
Dorpsstraat 91
GPS 51.210247° NL 5.421686° EL
Access via the door in the middle of the A-block, immediately on the left as you enter the site via Dorpsstraat.
Every Day 2pm – 5pm (from 25 June)
Nieuwe Markt
GPS 51.209786° NB 5.423998° OL
This open-air exhibition is permanently accessible
Winners edition 2021
Ursulinenstraat 54 – Fencing in front of the Mater Dei Institute
GPS 51.209632° NB 5.426287° OL
This open-air exhibition is permanently accessible
Antti Karppinen, Finland | Articial Intelligence
Vizualizator, Serbia | Press Photo Serbia
Vloeterstraat, access via parking behind the Sacred Heart Chapel
Ursulinenstraat, access via gate of the former convent
GPS 51.209813° NL 5.428673° EL
This open-air exhibition is permanently accessible
RPS Benelux Chapter Members 2023 Print Exhibition | Daily Life of Us
Kerkdijk, right next to Palethe
GPS 51.211126° NL 5.428237° EL
This open-air exhibition is permanently accessible
PROGRAMME EDITION 2023:
Sunday 4 June
Official opening ceremony announcing the laureates of Lens op de Mens 2023
Zinnezaal CC Palethe
Start 10.30am
This awards show launches the fourth international photo festival 'Lens op de Mens' in Pelt with the exhibition route through the streets and squares of Overpelt-Centre and guest exhibitions in CC Palethe, Pelle Melle and St. Martin's Church.
Saturday 24 June
Workshops with Frank Doorhof (Emmeloord – NL)
De Vakschool, former site TIO campus Wico
Morning from 10am – 11.30am live shoot by Frank Doorhof using small flash units (speedlights)
Mastering the Modelshoot with a reportage flash
To take cool model photos, you don't need big strobes and modifiers, expensive camera or spectacular location. If you know how light works, you can measure and control it and that is what photographer Frank Doorhof shows you in this interactive live shoot with model and speedlights (or reportage flash, compact flash or system flash).Almost every photographer has small speedlights. They are great to start with and hugely diverse. Because they are so small, they always fit in your photo bag. With a few clever modifiers, they become even more interesting. Frank uses Rogue Expo Imaging's products for this purpose. He even has his own Frank Doorhof FlashBender, with a soft silver inlay and an attachment to turn it into a striplight with grid. New are the magnetic products that fit all compact flash units and round flash units (such as Godox and Profoto) and the fibreglass umbrellas.
Frank shows you how to take spectacular photos with these small flashes and some modifiers. Thanks to the light meter, every photo is fast and correctly exposed. He explains live how to coach the model and set up the light. You see the results right away on a big screen. With great humour, Frank not only gives you many tips on how to shoot better but also answers questions he regularly gets.
Of course, you can ask questions throughout the shoot. There is also the opportunity to buy Frank's book, signed of course.
This live shoot is for every photographer who shoots with flash. The emphasis is on the compact flash, but the theory on light also applies to studio flashes, of course. You will certainly get a lot of inspiration to get started yourself.
Tickets : € 15 (maximum 20 participants) only available via Eventgoose
Afternoon workshop with maximum 15 participants who can each shoot 2 sets themselves
Creative with model photography
Every week, photographer Frank Doorhof gives model photography workshops at his studio in Emmeloord. There, he has a nice selection of flash units and, of course, fantastic backgrounds. His studio is completely darkened, which makes setting the light all just a little easier.But of course that is not always the case with your photo shoot!
In this hands-on workshop, you will learn how to properly light a model with just one or two flashes and simple modifiers that everyone probably already has. And that are affordable like an umbrella and reflector with grid. With a little colour or lens flare, you can quickly add atmosphere to your photo. You will learn how to take great photos even in a difficult location. Of course, Frank shows you how to steer a model for expression and a better pose. And he gives tips on how you can cheaply and simply add extra styling yourself or be creative in other ways with few resources.
There is also a focus on workflow, from metering light and tethered shooting to making the selection and dealing with models. Of course you can ask questions throughout the workshop.
You will see the results right away on a big screen. You will then get to work yourself under Frank's guidance. We provide the flashes and triggers, you know your camera settings.
This workshop is for anyone working with models/people who wants to gain inspiration and, above all, learn about light. Because if you understand light, you can apply it yourself in your own shoots.
Topics include
Good lighting with one or two flash units
Simple modifiersHow to get lens flare or colour in your photo
Controlling the model
Getting the most out of your location
Understanding light
TICKETS
Spectators (maximum 8) : pre-sale € 15 only available via Eventgoose
Active participant (maximum 12) : pre-sale € 80 only available via Eventgoose
Frank Doorhof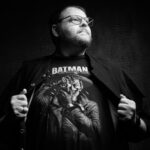 Photographer and trainer Frank Doorhof gives model photography workshops in his studio in Emmeloord, but also worldwide. Regularly at unique places such as castles, museums and urbex locations. He works with studio flashes, speedlights and LED. Frank is a sought-after speaker at trade fairs and events such as Photokina, PhotoshopWorld, Photodays, The Photography Show, Fotofair and Professional Imaging. Two of his courses are now online at the Photofacts.co.uk academy. You can buy his own courses on model and street and travel photography on his website.
He is also very active on social media. Every month, you can watch the "Digital Classroom" online for free; a live shoot with a theme and model.
Frank is the author of several bestsellers on model photography such as "Mastering the Model Shoot" (translated into Chinese and Dutch, among other languages), "Photographing with a Small Flash" and "Photographing in Every Situation".
Frank is an ambassador for many brands, including Sony, Hensel, Calibrite, BenQ photographic Monitors, Click Props Backdrops (with its own signature background line), Rogue Expo Imaging, IQwire tether cables, K&F Black Diffusion filters and many more. He is the first European KelbyONE trainer.
Sunday 25 June
Official opening of the exhibition 'They fight for us too'

De Vakschool
10.30am
Official opening of the exhibition of contemporary Ukrainian war photography.
Musical accompaniment by choir Kiliana ("songs of peace")
​
Saturday 1 July
Lecture by Toon Van Hoof about Martin Parr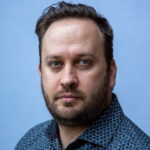 CC Palethe
Start 2am
Toon Van Hoof tells us a fascinating story about the work of Martin Parr, one of the best-known documentary photographers of his generation.
After the lecture, Toon will lead his audience around Martin Parr's exhibition.
martinparr.com
Tickets pre-sale € 5 via Eventgoose
Saturday 9 – Sunday 10 September
Photo Project 'Choir in the picture' by Carine Van Gerven
Location: church of Overpelt-Fabriek
Entrance free
Children from various children's choirs and photographer Carine Van Gerven are working together to create a real art picture entitled "The Tower of Babel".
Together, they are building a tower. Not a tower that causes confusion, but one where the language of music ensures that people can understand each other. The children sing, make music and dance together, working during a choir day to create a group atmosphere, music and movements according to the theme of the picture. 
During the construction of this tableau vivant, we open the door for spectators on Saturday 9th, from 2pm – 4 pm for an insight into the creation of such a picture.
Monday 18 and Tuesday 19 September (sold out)
Thursday 21 and Friday 22 September (sold out)
Two-day workshop with Antti Karppinen (FI)
De Vakschool (former site TIO), Dorpsstraat 91, 3900 Pelt
AI – Artificial Intelligence in combination with 3D and Photoshop
Day 1
Goal of the first day is to observe my process how I use 3D and Ai software to make backgrounds and elements.
We will create 2 different background elements with Ai and 3D. Then we will have a photoshoot, where we will shoot the models to fit the environments we created.
9am – 12am: theory about AI – Demonstration of how to build worlds and elements in AI
12am – 1pm: lunch
1pm – 2.30pm: demonstration of how to build worlds and elements in 3D
3pm – 5pm: photoshoots with model(s) – lighting techniques
Day 2
Goal of the second day is to learn how to get most of the AI, we learn about different websites, services. 
Also we learn how to get better with prompting with AI. In addition to this, we will learn various Retouching techniques as we retouch the images together from the Day 1 with the backgrounds I created during the demonstration. 
We will go also through in-depth the Unreal Engine 3D space to learn how to utilise that with your own images. We will learn also how to create animations, and videos with different Ai tools. We will learn also about NFTs and what they are changing the landscape of photographers making art.
Photographers should bring their camera gear and laptops.
Price € 380 per person, including sandwich lunch
Maximum 15 participants
​
Wednesday 20 September
Panel discussion about AI – Artificial Intelligence
De Vakschool, former site TIO, Dorpsstraat 91, 3900 Pelt
8 pm
The world is in the midst of change. Visual culture is an inseparable part of our daily lives. But what is still real and what is fake? How should we feel about this? Can we still trust a photo as real?
AI – Artificial Intelligence is the topic of conversation of the day in the world of photography. AI has exploded in the past year.
AI-generated images are created by a computer. To do this, the computer draws on data from the many billions of images once published on the internet.
The rise of AI is a major game changer best compared to the impact of the industrial revolution.
As a photography festival, we had no choice but to reflect on these meteoric changes in the photography landscape. We even suspect that some of our participants already submitted AI-generated photos.
In any case, we will debate it at an international panel discussion.
Is the use of AI a threat to classical photography?
Should we look at photography differently?
Should AI be allowed or rejected in 'photo competitions'?
Is an image still original if it is created by a computer?
What is the impact of AI on copyright?
Will AI ever overturn itself if no more new input of original images happens?
These and other questions about AI will be addressed in a panel discussion we are planning in collaboration with some of our festival partners and guest speakers.
The panel discussion will be hosted by Zvezdan Mancic the organiser of the Serbian photo festival Vizualizator.
One of the panellists is Portuguese photographer Nuno Salgado, an expert on exhibiting photographs in public places.
The other panel members are Antti Karppinen (FI), Jos Verhoogen (BE) and Raïs De Weirdt (BE).
Saturday 23 September
Lecture by Martin Parr
Zinnezaal CC Palethe
Start at 3pm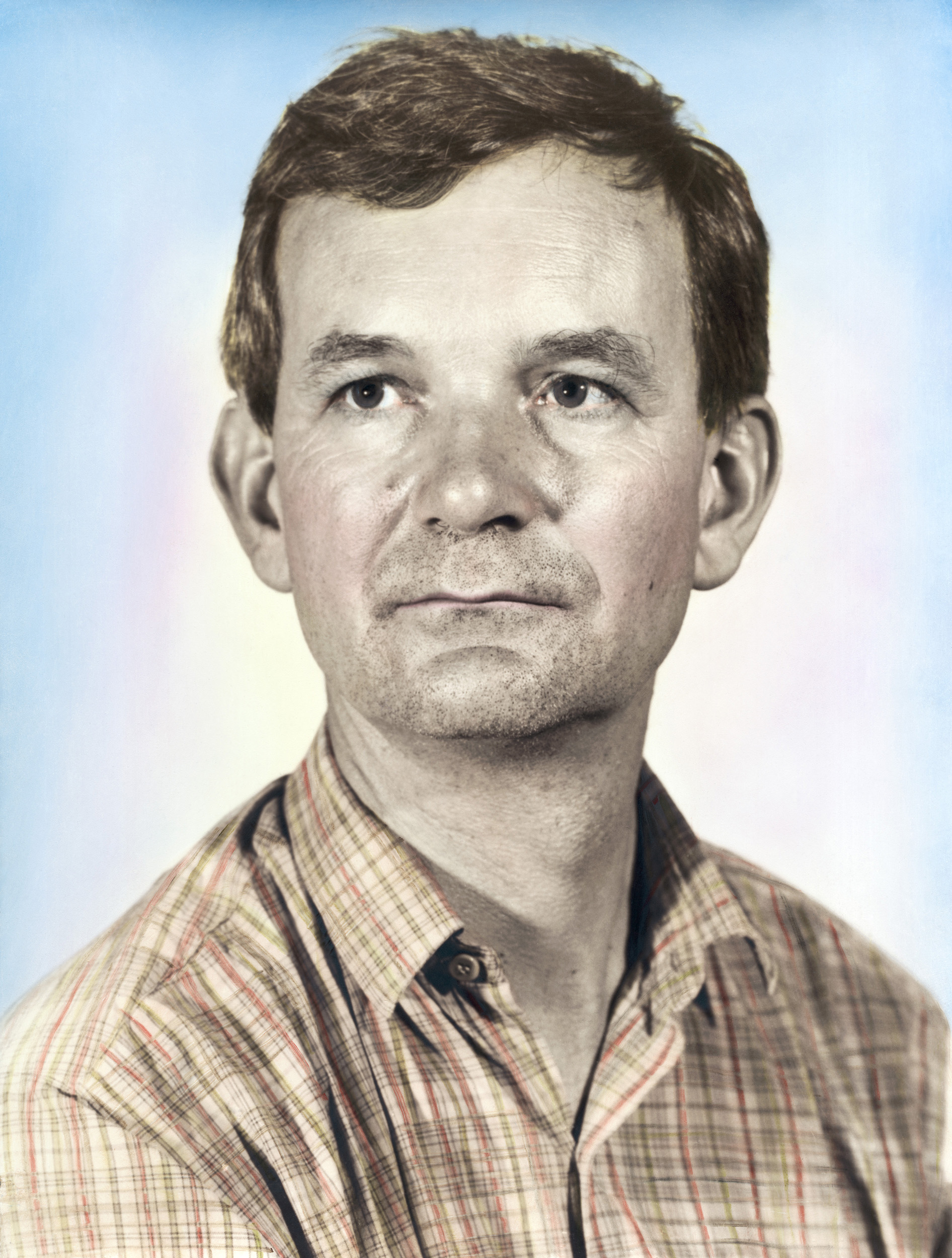 ​Martin Parr is one of the best-known documentary photographers of his generation.
With over 100 books of his own published, and another 30 edited by Parr, his photographic legacy is already established.
Parr also acts as a curator and editor. He has curated two photography festivals, Arles in 2004 and Brighton Biennial in 2010. More recently Parr curated the Barbican exhibition, Strange and Familiar.
Parr has been a member of the Magnum agency since 1994 and was President from 2013 – 2017. In 2013 Parr was appointed the visiting professor of photography at the University of Ulster.
Parr's work has been collected by many of the leading museums, from the Tate, the Pompidou and the Museum of Modern Art in New York.
Martin Parr established the Martin Parr Foundation in 2017.
In 2019 the National Portrait Gallery in London held a major exhibition of Parr's work titled Only Human.
Image: Havana, Cuba, 2000 © Martin Parr Collection / Magnum Photos
Tickets on pre-sale: 15 euro via Eventgoose
Tickets on-site: 18 euro
Saturday 23 September
Portfolio review, in collaboration with BREEDBEELD
Zinnezaal CC Palethe
10am – 1pm
Maximum 5 – 11 photographers can present their portfolio to feedback giver Lavinia Wouters.
The discussion takes place in groups where Lavinia Wouters gives feedback, but which everyone can pick up on. This way, all attendees can learn something from each other and respond themselves, and there is more interaction between the participating photographers and the feedback giver.
Register via https://breedbeeld.org/agenda/breedbeeld-feedback-pelt 
Registration fee 15 euro
Sunday 24 September
Workshops in collaboration with RPS – The Royal Photographic Society (UK)
Zinnezaal CC Palethe, Jeugdlaan 2, 3900 Pelt
11am – 12.30am : Workshop Mindfulness and photography with Diana Bokje
12.30am – 1pm : Lunch (own costs)
1pm – 3pm : Photographing in the streets of Pelt as part of the workshop
4pm – 5.30pm : Discussion of results
6pm – 7pm : Drinks (own costs)
7pm – 10.30pm : Dinner together (own costs)
The costs for the Workshop are for RPS Members €42 and Non-Members €47 to be paid in advance to our bank account:
The RPS Benelux Chapter NL44 ABNA 0247 9242 02 (BIC ABNANL2A) referring to Pelt and your name.
PayPal also possible – please contact the organiser.
Please register your attendance with an email (beneluxnl@rps.org) and make your payment for the events.
Workshop Mindful Photography with Diana Bokje
What do great photographers like Robert Adams, Cartier Bresson and Saul Leiter have in common?
It's their gaze, the way they focus on the world that surrounds them.
All three of them are mindful photographers. They use contemplative photography to get to the essence of their subject.
In this workshop you will make an acquaintance with contemplative photography in both theory as well as in practice.
In the afternoon we will find out in what way mindful photography can contribute to your photography. How you can really connect with your subject.
As the photographers couple, Alex Webb and Rebecca Norris Webb, both approach their subject in a mindful, focussed way, this led to striking street photography for Alex and to touching poetic images by Rebecca.
The results of your experience will be discussed at the end of the workshop.  So, let's find out how contemplative photography can improve your photography and can make your photography more satisfying.
Diana Bokje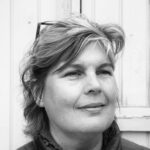 Diana Bokje is a photo coach, based in The Netherlands. She advises photographers on photographic style, imagination, mindful photography and storytelling. Diana also uses photo empowerment to guide people with associative photography to help cure them from suffering.
Diana is the author of the book "Van Maken tot Raken"
Photo search for the young and old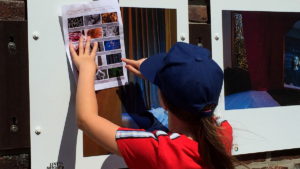 Want to experience the exhibition in a different way? Then try one of our photo quests tailored to different age groups. A challenge for young and old alike.
The forms for the searches are available free of charge in the information kiosks at various locations on the route, including CC Palethe, Pelle-Melle and the church.
You can also download them from our website.
There are forms for 3 age categories :
This form contains details of photographs to look for along the route of the open-air exhibition. On each photo on display, you will find a serial number starting with an A (amateur photographer) or P (professional photographer) at the bottom right. Write down the number of the photo corresponding to the detail photo on the form.
Young people and Augmented Reality
You don't see what you see!
During a workshop organised by Palethe during the crocus holidays, around 30 children worked with Augmented Reality under the guidance of Annelise Cerchedean of Studio Poc. 
At playground 't Pelterke, you can use your mobile phone to look for cute little figures the children made during this workshop. These figurines are hidden behind QR codes and displayed via Augmented Reality.