More than 300 photographers show their work in the streets of PELT
A unique outdoor exhibition from 6 June - 30 September 2021
Lens op de Mens Magazine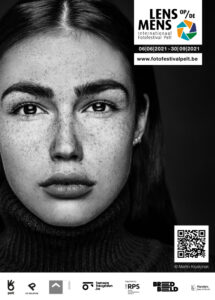 Through this link you can consult our extensive Lens op de Mens Magazine on-line.
In this programme booklet you will find a map of the exhibition route, all the names of the selected photographers, information about the guest exhibitions, opening hours, partners and sponsors, and more useful information.
The magazine will also be available in CC Palethe and in displays at several places along the exhibition route and at the local catering.
​
General info
CC Palethe is an ideal starting point for a visit to all exhibitions of Lens op de Mens. It is very centrally located on the route and there is plenty of parking space. Route plans and information magazines are available at CC Palethe and at the local catering.
Along the route, there is a wide range of catering establishments where you can relax with a refreshing drink and a tasty snack.
Corona safe open-air exhibition of all selected photos from Lens op de Mens
The almost 3 km long route runs along the streets and squares of Overpelt centre and is permanently accessible.
Opening Hours Guest Exhibitions 2021
Barbara Vandendriessche
Eddy Verloes | Buiten Zinnen / Losing Our Minds
RPS Benelux Chapter 2021 Print Exhibition
WPC Team Belgium 2021
Jeugdlaan 2, 3910 Pelt
GPS 51.211239° NB 5.428118° OL
Every working day 9.00 – 12.00 en van 13.00 – 16.30 h and during activities in the cultural center
From 4 July, open every Sunday from 2:00 – 5:00 pm
Bert Daenen | behind the mask
Kerkdijk 2-4, 3910 Pelt
GPS 51.211111° NB 5.425730° OL
Every day 10.00 – 17.00 h except during church services
Awards Winners 2019
Kerkdijk, next to the St. Martin's church
GPS  51.211010° NB 5.426558 OL
Accessible all day
Members of the Jury 2021
Rodenbachlaan   GPS 51.212879° NB 5.425396° OL
Bemvaartstraat   GPS 51.213406° NB 5.424647° OL
Accessible all day
Evi Polak | Real heroes never sleep
HelPhoto, Helsinki, Finland | Nordic Village
Vizualizator, Belgrad, Serbia
Vloeterstraat, access via parking at the Heilig Hart-chapel
GPS 51.209813° NB 5.428673° OL
Accessible all day
Ilan Wittenberg (NZL) | Faces of Caïro
Nieuwe Markt
GPS 51.209786° NB 5.423998° OL
Accessible all day
Photo search competition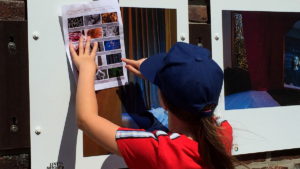 This year we are once again organising a photo search competition for young and old.
You can pick up the participation form at CC Palethe, Jeugdlaan 4. The counter at CC Palethe will be closed during the weekend. You can download the forms via the links below and print them at home before coming to Pelt.
There are forms for 3 age categories:
This form contains details of photos that you should look for along the route of the open-air exhibition. On each photo exhibited, you will find a serial number starting with A (amateur photographer) or P (professional photographer) in the bottom right-hand corner. Write down the number of the photograph that corresponds to the detail on the participation form.
You can bring the completed form to the tourist office in CC Palethe. A nice gift will be waiting for you.
PROGRAM EDITION 2021:
Sunday 6 June
Virtual award show announcing the winners of Lens op de Mens 2021.
Streaming starts at 11:00 am CET on https://youtu.be/q2C9I01vNiU
The virtual award show is also the start of the third international photo festival 'Lens op de Mens' in Pelt with the exhibition route through the streets and squares of Overpelt-Centre and the guest exhibitions in CC Palethe and St.-Martin's church.
Sunday 22nd and Monday 23rd August 2021
Workshop 'Staged Photography' with Barbara Vandendriessche, in cooperation with beroepsfotografen.be: CANCELLED
Sunday 19 September 2021
Awards Ceremony winners Lens op de Mens 2021
Location: CC Palethe, Jeugdlaan 2, 3900 Pelt
Date: Sunday 19 September at 11 am
Prior to the RPS workshop, there will be a short official awards ceremony for the winners of Lens op de Mens 2021.
Saturday 18th and 19th September 2021
Workshops in cooperation with RPS – The Royal Photographic Society (UK)
Zinnezaal CC Palethe, Jeugdlaan 2, 3900 Pelt
RPS Benelux Chapter Programme
Saturday 18 September: Workshop Day
11:00 – 12:30 Workshop documentary photography with Pieter van Leeuwen
12:30 – 13:00 Lunch
13:00 – 15:00 Photographing in the streets of Pelt as part of the workshop
16:00 – 17:30 Panel – discussion of results workshop
18:00 – 19:00 Drinks (own costs)
19:00 – 23:00 Dinner together (own costs and only for RPS members)
Sunday 19 September: Benelux Chapter Introduction Day
11:00 – 12:00 Lens op de Mens Awards Ceremony
12:30 – 13:00 Lunch
13:20 – 13:50 Welcome and Introduction to the BENELUX Chapter
14:00 – 15:00 Janet Haines ARPS – RPS Distinctions (English)
15:10 – 15:50 Carol Olerud ARPS – Eyes on Hamburg (English)
16:00 – 16:45 Armando Jongejan FRPS – Monks life (Dutch)
17:00 – 18:00 Portfolio reviews (max. 5 A4 photos)
Please register on beneluxnl@rps.org
The costs for the Workshop are for RPS members €35 and non-members €40 to be paid in advance to our bank account:
     The RPS Benelux Chapter
     NL44 ABNA 0247 9242 02 (BIC ABNANL2A)
     referring to Pelt and your name.
Both days are open to all. Sunday is free admission.
Please register your attendance with an email (beneluxnl@rps.org) and make your payment for the events. Your money will be reimbursed if we have to cancel the weekend due to the circumstances of Covid-19.
Monday 20 September 2021
Lecture and workshop in collaboration with beroepsfotografen.be
Zinnezaal, CC Palethe, Jeugdlaan 2, Pelt
The lecture is from 10.00h to 12.00h and the workshop from 13.00h to 17.00h
Lecture Contemporary Photojournalism in Serbia and surrounding with Zvezdan Mancic
Serbia has many Pulitzer Prize and Worldpress winners. The international photo festival Vizualizator is not an unknown organisation in the Balkans. As a festival but also as an organisation, they play an active role in the world of reportage photography.
Zvezdan Mancic has been the inspirator of the festival and the organisation behind Vizualizator for many years. Zvezdan will introduce you to the world of journalism and the visual language used by a journalist and the photography scene in Central Europe.
Workshop Visual Language and Composition with Carine Van Gerven
What does an image tell us? How do we as photographers deal with this visual language? Photographer Carine Van Gerven explains how she constructs a photo. She starts from a concept and then looks for ways to bring this concept into view.
She is currently working on a series of 'time' that is inspired by seventeenth-century genre paintings. Her work is full of symbols that tell the story behind the image.
Making free work as a photographer is inspiring, stimulating and often necessary, but how do you start? What problems do you encounter? How does a creative process unfold?
In this workshop Carine will mainly tell about the approach of her own work and she will challenge you to stimulate your own creative thinking process through some small exercises.
The lecture on Photojournalism and workshop Visual Language and Composition costs € 65 for members and € 120 for non-members. Lunch is included in the workshop.
More info via fotografen@unizo.be
Register at beroepsfotografen.be