The 4th edition of Lens op de Mens will be held from 4 June – 1 October 2023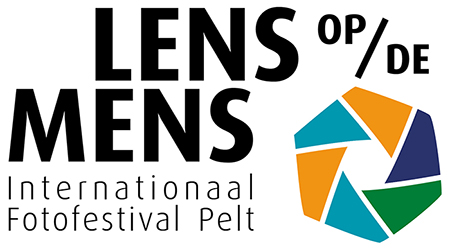 During the summer of 2023, vzw Lens op de Mens – Fotofestival Pelt organises in cooperation with the town council of Pelt and CC Palethe the fourth edition of the biennial photo festival 'Lens op de Mens'.
For this edition, we continue along the same path. Professional and amateur photographers from all over the world are invited to present their most beautiful images to the general public.
The main theme of this edition remains, of course, 'man' in the broadest sense of the word. The sub-theme for 2023 is 'humour'.
The photo festival opens on Sunday, 4 June and closes on Sunday, 1 October 2023. We look beyond our national borders again through an international cooperation with RPS – the Royal Photographic Society, photo festival Vizualizator in Belgrade and HelPhoto in Helsinki.
As organisers of Lens op de Mens (Focus on Man), we can look back on a very successful 3rd edition of our festival. Despite the limitations imposed by the coronapandemic, we estimate that some 20,000 visitors descended on Pelt during the summer of 2021. We are very pleased with this success, which was only possible thanks to the many submissions from photographers worldwide and the cooperation of many volunteers. Our heartfelt thanks for this.
Meanwhile, we are working very hard on the programming of 'Lens op de Mens 2023'. You can follow it (soon) on our programme page.
Sub-theme 2023 'humour'
For the 2023 edition, we hope that the coronapandemic and the horror of the Ukrainian war are behind us and we assume that there is no better remedy for all the negativity than a generous laugh.
That is why in 2023 we will be giving a special award to the photo that portrays the regained joy and freedom after the coronapandemic and its effect on 'man' with the most humour.
The main theme of Lens op de mens will of course remain 'man', as in previous editions.
The call for entries is open from 10 October 2022 to 6 February 2023.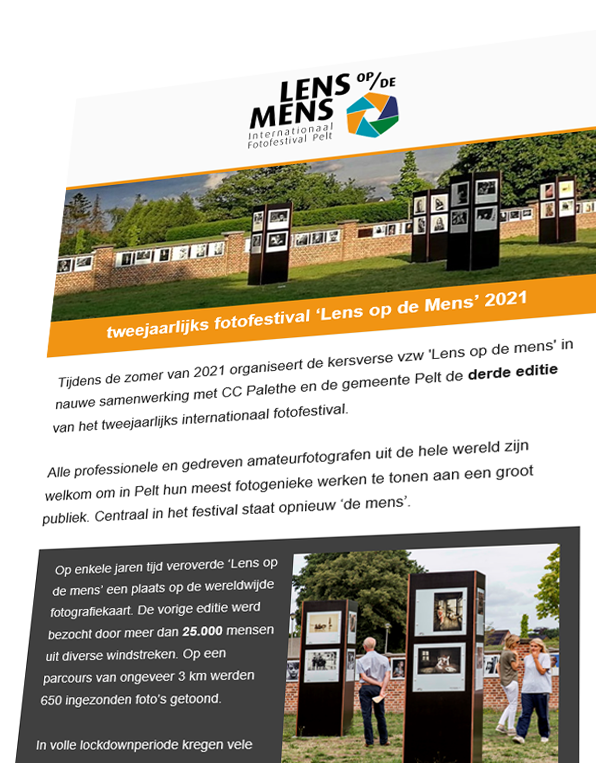 Sign up for our newsletter
We will keep you informed of the latest news regarding our photo festival through our newsletters.
We attach great importance to your privacy and act fully in accordance with the new GDPR regulations. We do not pass on email addresses to third parties and in addition, each newsletter contains a link where you can unsubscribe yourself at any time and also one where you can adjust your profile.
Sign-in