Lens op de Mens is open 6 June – 30 September 2021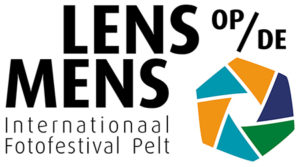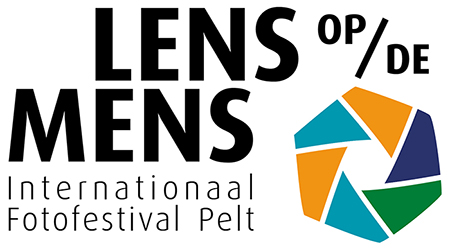 On Sunday 6 June, photo festival Lens op de Mens opened with a virtual award show via our YouTube channel.
You can review the show through this link: https://youtu.be/q2C9I01vNiU
Except for CC Palethe and the Sint-Martinus church, all photos are exhibited outdoors and can therefore be viewed corona safe and free of charge. The indoor exhibitions can also be viewed free of charge during opening hours without making a reservation.
Palethe is open every working day from 9:00 a.m. to 12:00 p.m. and from 1:00 p.m. to 4:30 p.m. As of 1 July, Palethe will also be open on Sundays from 2:00 p.m. to 5:00 p.m. St. Martin's Church is open every day from 10:00 a.m. to 5:00 p.m., except during religious services. Wearing a mouth mask and maintaining a safe distance of 1.5 m between visitors remains compulsory in the indoor exhibitions.
On Sunday 19 September at 11:00 am there will be an official presentation of the diplomas to our award winners at CC Palethe.
On this day you can also attend a workshop or lecture by RPS. More information on the programme page.
After two successful editions, Lens op de Mens vzw, in collaboration with CC Palethe and the municipal council of Pelt is organizing the third edition of the biennial photo festival 'Lens op de Mens' in the summer of 2021.
For this third edition, we are continuing along the road already travelled. Professional and amateur photographers from all over the world are welcome to present their most beautiful images to the public. The theme of this edition is again 'man' in the broadest sense of the word.
An international jury of professional photographers made a selection from all submitted photos. A record breaking number of images was submitted by photographers worldwide. In addition to the numerous guest exhibitions, a total of around 1,000 photos are exhibited mostly in the open air (corona proof) and in a few indoor locations.
Sub-theme edition 2021: Man in times of corona pandemic
At the moment, an epidemic caused by the Covid-19 coronavirus is afflicting the entire world. This has a huge impact on public life, which has largely stalled. But sectors such as health care are forced to go into overdrive. Also the food supply and everything related to it continues to work. The heroes of this crisis deserve our utmost respect. Heartbreaking images of caregivers and their patients, as well as heartwarming images of solidarity and support for all those who want to make our lives as pleasant as possible according to circumstances appear on TV news and on social media.
We would like to make from these images our sub-theme for Lens op de Mens 2021 . Rarely "people" received more attention. The "lens" is more than ever "aimed at people". All those images of solidarity and compassion, of joy and sorrow, from applause for the caregivers to window visits to retirement homes, from children who have to learn and play differently, from home workers, from empty streets and from all who have to meet our daily needs. We would like to pay special attention to all these images during the next edition of Lens op de Mens in 2021.
That is why, in 2021, we will create a special corona picture award for the photo that most aptly depicts the impact of the corona pandemic on "humans". The main theme of Lens op de Mens will of course remain "the human being" as in previous editions.
The image for this new edition is from the Slovakian photographer Martin Krystýnek. It is part of his project 'Faces'. Martin was our Gold Award winner in the 2019 Professional Photographers category. In that year he also obtained the title of MQEP Master Qualified European Photographer from the FEP Federation of European Professional Photographers. In addition, he obtained many important national and international awards. You can admire more of his works at our guest exhibition of the winners of Lens op de Mens 2019. www.martinkrystynek.com
Pelt, 2nd April 2020
Dear photographers from all over the world,
Our second edition of the International Photo Festival 'Lens op de Mens' is over. Perhaps you were one of our participants and we would like to thank you very much for that.
The photo festival has attracted thousands of visitors and we received many heartwarming reactions. We will take to heart the tips we received to let the festival grow again in this third edition, the latter is already our dream.
Recently, the Corona virus hit hard worldwide. We want to express our sympathy with all those who have lost a loved one because of this and who have to deal with this grief in difficult circumstances. But we also look forward to next year with many positive expectations. Together we will control the virus. We shall go on!
That is why we once again make a warm appeal to all of you to focus your lens on the people around you and send in your best photos to our festival. No festival is possible without your cooperation.
In the meantime, we are working hard to establish a non-profit organization for our festival.
We would also like to express our gratitude to the municipal council of Pelt for the great confidence in our organization and the support that was promised to us for the future.
We wish you good luck in creating beautiful images and hope to welcome you back at our next edition of 'Lens op de Mens / Spotlight on People 2021'.
You can follow us on Facebook and Instagram or on this website.
Carine Van Gerven
Festival coordinator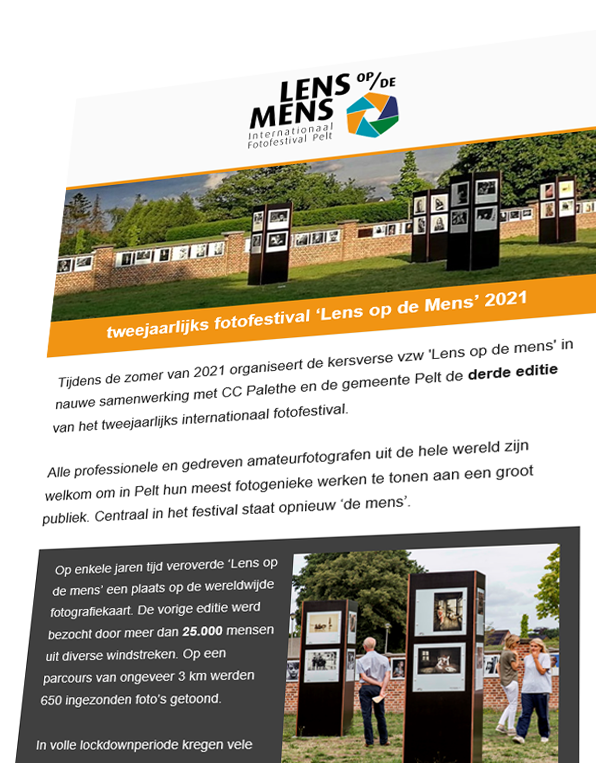 Sign up for our newsletter
We will keep you informed of the latest news regarding our photo festival through our newsletters.
We attach great importance to your privacy and act fully in accordance with the new GDPR regulations. We do not pass on email addresses to third parties and in addition, each newsletter contains a link where you can unsubscribe yourself at any time and also one where you can adjust your profile.
Sign-in