AWARDS
With your selected photos for the exhibition you compete for these awards
Amateur Photographers Category:
Gold
Silver
Bronze
Honorable mention
 Professional Photographers Category:
Gold
Silver
Bronze
Honorable mention
​Other awards:
Award for the most promising young photographer under 30 years of age (born 1992 or after)
Award for the best 'Humour Photo', the photo that best manages to put a smile on our faces after all the years of lockdowns and pandemics
Award for the most creative picture
The winners of the Gold, Silver and Bronze Awards in both categories and of the special awards will be invited to submit five photographs and a brief CV for a special guest exhibition during the next edition of Lens op de Mens.
Jury chairman
Johan Brouwers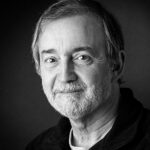 ​QEP – Qualified European Photographer.
Was also jury chairman of the 2017, 2019 and 2021 edition.
Board member of the National Association of Professional Photographers (beroepsfotografen.be).
Chairman of the EP jury (European Photographer), a basic qualification for photographers, awarded by the FEP – Federation of European Professional Photographers.
Chairman of the FEP Awards Competition from the 2019 edition.
Jury members 2023
Caroline Alida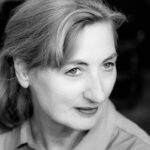 ​Caroline Alida (BEL) was one of the guest photographers of Lens op de Mens 2019. Her work was on display at the Maria Hospital Noorderlicht.
All the projects of Caroline Alida are developed around a theme and are the result of years of work. Her focus is on human interest photography of marginal people. Her pictures show the inner world of these vulnerable people. Her main projects have been published: Bori / Healers of the Soul (Niger) – exhibited at FOMU 2010 – and Hearing Songs in Pine Trees (Eastern Siberia). Her work is a mix of both analog and digital photography.
A few years ago she was selected by LensCulture to participate in an intensive Masterclass Visual StoryTelling. As a result, story and environment have gained more importance in her recent work.
Zjuul Devens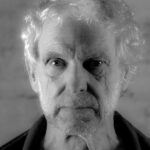 ​Visual artist, photographer, filmmaker, graduated in Visual Arts and Photography.
As a professional photographer, he was a devil-doing-all. Passionate macro photographer. Now he is mainly concerned with the theme of transience. He likes to give dead half-decayed insects a "new life".
For him, photography and art are a part of his life.
Andy Hens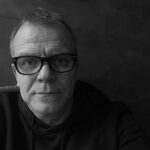 ​MQEP – Master Qualified European Photographer.
Belgian photographer who lives and works in Germany.
Experienced jury member for the QEP and Master QEP qualifications of the Federation of European Professional Photographers.
Photography teacher at the Handwerkskammer in Dortmund.
Experienced cgi artist (cumputer-generated imagery).
Karla Kogelman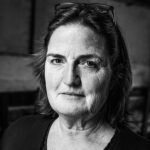 Carla Kogelman (NLD) was one of our 2019 Lens op de Mens guest photographers (photo Sonja Liebhart). Her series THE BATH was exhibited in the cafeteria of the former swimming pool Dommelslag. The series consists of a number of photos taken in the last months of the Amersfoort sports fund pool.
Carla Kogelman (1961) worked in the theatre industry for 25 years. In 2008, she changed her career and went to the Fotoacademie Amsterdam, where she graduated with a specialisation in documentary / journalism / portraiture.
Her black-and-white portraits are an illustration of everyday life. Poetic, timeless and recognisable. Close and pure. She is fascinated by the idiosyncratic world of children and the backstage world of theatre, film and sports.
On assignment, Kogelman works for magazines and newspapers, gives master classes and workshops at home and abroad. She also works on her own projects. In November 2018, her book I AM WALDVIERTEL was released  .
Carla Kogelman's signature is unmistakable: she captures children's daily lives in a natural yet penetrating way. Her strength lies in long-term projects. By returning to the same families again and again, she gets a good insight into their personal atmosphere and the opportunity to capture special moments in an unforced way. With her project ICH BIN WALDVIERTEL in which she follows the two Austrian sisters Hannah & Alena, she won first prize at World Press Photo twice (2014 and 2018), in the observed portraits and long-term project categories respectively.
A comprehensive overview of all her exhibitions, publications and awards won can be found on her website www.carlakogelman.nl
Jim Lowe (UK), MA, FBIPP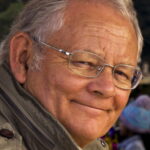 QEP – Quelified European Photographer
FEP (Federation of European Photographers) Qualifications Chairman
FEP Young Photographer Award Chairman
Specialities: Architecture, Commercial, Landscape, Black & White
Jim, has been a professional photographer for many years. After graduating from Swansea College of Art, he was employed as an in-house photographer by the Ministry of Defence in London, then worked for six years in the photographic section of Portsmouth Polytechnic leaving as Head of the Department, finally joining the Westinghouse Brake and Signal engineering company, part of the Hawker Siddeley Engineering Corporation as Chief Photographer, which involved assignments in Hong Kong, Zimbabwe and America.
He started his own commercial/advertising photography business in partnership with his wife, Sue in 1985 and has specialised in architectural photography for the last 25 years. becoming a recognised expert in architectural photography. Photographers Institute Press, an English publishing company commissioned him to write a book; 'Architectural Photography, Inside & Out' which sold out worldwide in 3 years.
Jim is also well known for his large format analogue black and white landscapes for which he uses traditional film, hand printing them to exhibition quality. These have been acquired by collectors as far afield as Japan, India, South Africa, Canada and The Republic of Ireland as well as the UK. Jim has had exhibitions of his B&W landscapes and architectural photography throughout Europe, London, Moscow, Bath, Wiltshire and Cornwall. The majority of his images are now captured using digital technology.
From 2007-2018, as well as continuing with his other activities, Jim, was a senior lecturer at Falmouth University, Cornwall on The Marine and Natural History Photography Course and was made Head of the course in September 2012. During his time teaching at Falmouth University, he achieved a Master's Degree in Education and Creative Academic Practice and became a Senior Fellow of the UK's Higher Education Academy. He is also currently an online tutor in Architectural Photography for the UK based company Learning with Experts and has taught students worldwide.
He was President of the British Institute of Professional Photography (1999/2000) and a director for some years, a Vice-President of the Federation of European Photographers from 2000 to 2010 and has been judging for the FEP for 24 years and is currently the Chairman of the FEP Qualifications Jury and Chairman of the FEP's Young Photographer Award. He has also acted as a judge for many European photographic organisations and competitions.
Carol Olerud, FRPS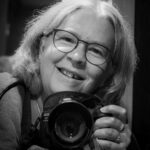 Carol Olerud FRPS is an Australian born Dutch woman now living in The Netherlands. She is married to a Swede and has three grown children.
Photography has been her hobby since she was 12 when she got her first own camera. It has grown out of hand. She's a member of many groups where people meet and talk about their photos.
Carol is a Fellow of the RPS (Royal Photographic Society) since 2021. Previously she had attained her Associate Distinction in 2018. She is the Organiser of the Benelux Chapter since 2020. Members and Friends of the Chapter come together to work towards gaining their distinctions and they hold workshops and other events.
Carol's main focus is documentary/contemporary photography. She likes to take photos of people in any situation. Storytelling and street photography are main themes for her. The decisive moment – capturing something that happens in an instance. The camera always at the ready!
With the Royal Dutch Fotobond, Carol is the coordinator of the National Group Documentary Photography which meets at least four times per year with people from all over The Netherlands. They present their printed photos and discuss them with each other. They also make books together and have expositions when they can. The group also likes to go on photography trips once a year to any city in Europe.
On a more local level Carol is the Chair of a photographers' collective, Visie+ and her own photography group is called De Verbeelding, they meet every two weeks.
To see more of Carol's photos please check her website: www.carololerud.com
www.rps.org  |  https://rps.org/chapters/benelux/  |  www.fotobond.nl
Exhibition of judges' works
Our judges are all photographers themselves. We will exhibit about five works by each of them in a separate guest exhibition that will be on display along the new footpath between Oude Markt  and Lod Lavki Street.
A big thank you to our jury members for their enormous effort to view and judge so many photos.
Thanks to them we can uphold the artistic quality of our festival.